Brazilian Butt Lift in NYC
New York Brazilian Butt Lift
Brazilian Butt Lift is a buttock augmentation procedure popular among our New York City patients. Buttock augmentation surgically alters the size, shape, and contour of the buttocks in men and women. The augmentation can be achieved through fat transfer or, now less commonly, silicone implants.
BBL surgery using the fat transfer method begins with liposuction to remove unwanted fat from a designated area(s) of the body (typically, stomach, waist, and/or thighs). The fat is then processed and re-injected into the buttocks to improve contour.
Traditional Brazilian butt lifts are very aggressive procedures that can turn dangerous when fat is injected below the muscle. In addition, the traditional approach can create cartoonish shapes and unnatural figures in patients. While this traditional BBL procedure is still popular, it is not the method performed at Neinstein Plastic Surgery.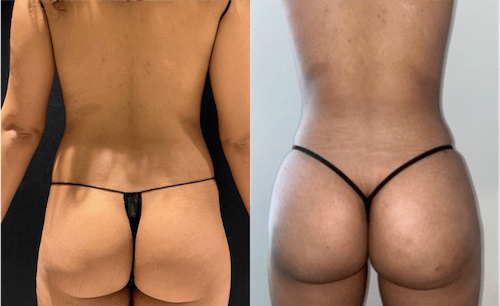 BBL with Neinstein Plastic Surgery in NYC
Tasteful, perky, and youthful buttocks are the goals of Brazilian butt lift surgery at Neinstein Plastic Surgery. It is about creating a better buttock, not just a bigger buttock. Our goal for all patients is to achieve a toned, defined, and athletic look that is especially natural looking in the short and long term.
Modern Athletic BBL
Our goal with the Athletic Brazilian Butt Lift is to help you achieve an athletic, fit physique. We utilize Vaser technology to help melt fat for smooth low trauma removal and J-Plasma technology to assist with skin tightening. Typically, sculpting the waist alone will give an appearance of a youthful perky buttock. However, in Athletic Brazilian Butt Lift surgeries we commonly also perform liposculpting of the abdomen and waist before fat transfer to improve results. In addition, liposculpting of any area of the body can be added to your BBL procedure.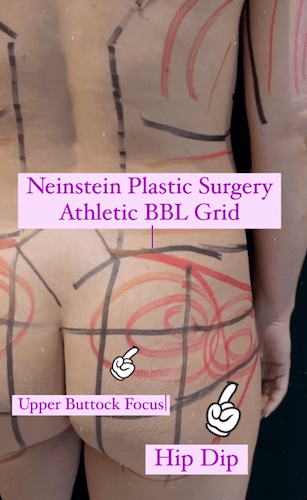 Male Brazilian Butt Lift in NYC
The glutes are among the most powerful muscles in the human body and our male BBL patients typically promote that strength . For male buttock enhancement, we follow two principles:
 Subtraction of the fat obscuring the superior and lateral portions of the buttocks
 Augmentation over the gluteus muscles with natural fat tissue to enhance projection and the muscular shape of the buttock.
What is the difference in female and male buttocks?
Our female patients tend to see a rounder buttock shape, this is why we focus on the middle and outer third of the buttock going into the hip dips.
Men seek a more structured projected square like buttock that promotes strength. We use the same technologies and technique but use a male focused aesthetic for the application of the purified fat.
Recovery & Downtime
We ask patients to limit sitting on their buttock as much as possible for the first three weeks. Expect soreness, bruising and swelling for a week or two.
Most patients are up walking the next day. They can shower the next day as well.
Back to work in one week and the gym in 3-4 weeks.
Frequently Asked Questions About BBL
"Dr. N and his team were accommodating to my schedule and pleasant to work with throughout the process. I'm so so happy with my results and I know they are going to keep getting better as the weeks go by."