New York Lipo 360
Lipo 360 is a comprehensive liposuction procedure that targets multiple areas of body fat. The procedure essentially covers from the breast to the groin and all the way around. In terms of areas, it is considered to target the abdomen, waist, and lower back.
Lipo 360 is our most popular liposuction option at Neinstein Plastic Surgery. It is ideal for patients such as mothers who want to make dramatic changes to their body, or those seeking to look and feel their best by changing their core area.
The truth is, regardless of diet and exercise many of us store stubborn fat. This can make exercise less fun and fulfilling because we do not see the fruits of our labor. Commonly, we deposit this tough resistant fat in thee areas Lipo 360 targets.
The reason Lipo 360 is the most popular procedure at Neinstein Plastic Surgery in New York City is our relentless pursuit of knowledge in liposuction technology and liposuction techniques combined with the ability and knowhow to minimize anesthesia and recovery now allows us to give every patient a customized approach.
Neinstein Plastic Surgery has built on the foundation that makes Lipo 360 so popular. By focusing on one procedure, each and every staff member each and every day is focused on giving the best possible Lipo 360 outcome.
Lipo 360 Options
Athletic Lipo 360
For the patient committed to fitness with a strong muscle foundation we can help accentuate the hills and valleys of the muscular architecture during your procedure. For women we help create long lean athletic lines.
Fit Girl Lipo360
Liposuction and specifically liposculpting (our word for the addition of sculpting and tightening technology) is not a debulking or simply fat removal procedure. Our surgeons intimate knowledge of Vaser fat melting technology and jplasma skin tightening technology allows us to be "the final mile" for thin and fit patients. Fitness enthusiasts and many patients born with genetics that keep them lean have become some of our most common patients.
We tend to be very gentle on the fat removal and even use custom fat removal devices or cannulas that are the size of stir sticks. By keeping them super small and thin it allows our surgeons to go slow and almost cell by cell perform the Lipo 360. Dr Neinstein has authored many textbook chapters on the intricacies of Vaser and jplasma technology in Lipo 360. When he teaches surgeons from around the world on how to use Vaser and jplasma in Lipo 360 he goes into details about energy frequencies, energy physics, and specifically how to use them differently for each body type

Lipo 360 with Neinstein Plastic Surgery in NYC
Lipo 360 uses Vaser Ultrasound technology to selectively melt body fat for easy removal. By melting the fat, surgeons can remove it more consistently, and with less trauma and force. Plasma technology can also be used through the same incisions to help tighten the skin after fat removal.
As a member of the American Society of Aesthetic Plastic Surgeons Safety Committee Dr. Neinstein believes Lipo 360 should only be performed by surgeons with their own team, and who perform the procedure frequently. This is because Lipo 360 is a large procedure that requires anesthesia, and a carefully coordinated effort for best results and safety.
Consultation
The first step in having your Lipo 360 procedure is a consultation. Thorough virtual or in-person consultation, Dr. Neinstein or Dr. Chris will learn more about your goals and develop a plan. During the consultation your doctor will also explain minimally invasive and general anesthesia, and you will make a decision as which path you'd like to take.
Anesthesia
Minimally Invasive Anesthesia
Dr. Neinstein has spent his career making this procedure safer and easier. Specifically he has worked with anesthesia experts around the world and written many papers on the science and safety of numbing fluid.
The actual key to being able to numb a patient without general anesthesia and still provide comfort is a matter of finesse and expertise. This skill has been developed by Dr. Neinstein thousands of patients and has been passed on to Dr Chris.
The space between the skin and the muscle where the fat lives has little nerve endings. Dr. Neinstein has created a system where the numbing fluid can gently crawl almost like a warm blanket being pulled over you. This allows the areas to be treated to be numb without requiring general anesthesia. This is revolutionary and not something surgeons who do not do thousands of cases are able to do.
Dr. Neinstein and Dr. Chris thoroughly enjoy minimal anesthesia because it is a unique opportunity to chat and really get to know patients and develop a bond. The confines of the operating room are a great break from the hustle and bustle of everyday professional and home life.
Minimally Invasive Anesthesia Overview
Good for patients seeking as fast as a recovery as possible and those concerned about the risks of general anesthesia
We give oral sedation and numb the fat, people feel calm from the oral sedation and numbing of the fat has some pressure sensations but it is quite quick and the surgical team always makes sure you are enjoying the experience as they play music and get to know you
We limit minimal invasive procedure to 3 areas as the amount of numbing medication given is based on your weight and typically more than 3 areas
Patients chat or nap throughout the procedure and are able to put their garments on themselves and leave immediately from the operating room as opposed to a long recovery room stay
Less risk, less nausea, less grogginess, less downtime, rapid recovery
General Anesthesia
Many patients are squeamish or simply prefer a deeper state of anesthesia in surgery
Neinstein Plastic Surgery is blessed to work alongside the best anesthesia group of board certified anesthesiologists anywhere
Our anesthesiologists will call you and come up with an anesthesia plan that is gentle and customized to your specific needs and concerns
Our team most often simply gives IV medication so that there is no breathing tube
Lipo 360 Procedure: Day of Surgery
Below is a step-by-step guide of what to expect on the day of your Lipo 360 procedure with Neinstein Plastic Surgery.
We will ask you to bring your medications if you are not having general anesthesia and if you are having general anesthesia we ask you not to have anything to eat or drink the night before.
Our Nurse Practitioners will call, email, and text you before the procedure with all the information you will need.
Dr. Neinstein or Dr. Chris will mark you and you will have the opportunity to ask questions and review the markings.
Once in the operating room our dedicated operating staff will introduce themselves to you.
We begin the procedure by applying antiseptic to the areas to prevent infection and use sterile drapes to protect the area.
Next we gently numb the areas with numbing fluid (also known as tumescent fluid); some people call minimally invasive liposuction "tumescent liposuction"
Our first step is to melt the fat using Vaser ultrasound technology. We melt the deep fat just above the muscle, which allows for seamless fat removal and a smoother result with less trauma and thereby less downtime. The Vaser energy also contributes to tightening the collagen in your skin.
After the fat melting we use microair power assisted liposuction cannulas to selectively and gently remove the fat. These small devices vibrate at the tip so less force is required and used. Again, this contributes to less tissue trauma and a better result with less downtime.
In the final step of the procedure we use jplasma skin tightening technology. This unique and revolutionary use of ionized helium technology uniquely applies heat to the bottom of the skin to cause the collagen to tighten. We have found this to be more effective than other technologies such as Bodytite. Bodytite only uses radiofrequency energy. Plasma uses the same amount of radiofrequency energy to convert the helium gas into ionized helium so patients get the benefit of more tightening and more results.
Following this step our staff reviews the post operative instructions and places you in a compression garment.
Recovery
The first week following your procedure you will experience some bruising, swelling, and soreness. By the third week most patients start to see dramatic changes and are able to resume exercise and discontinue the compression garment.
Lipo 360 Before & After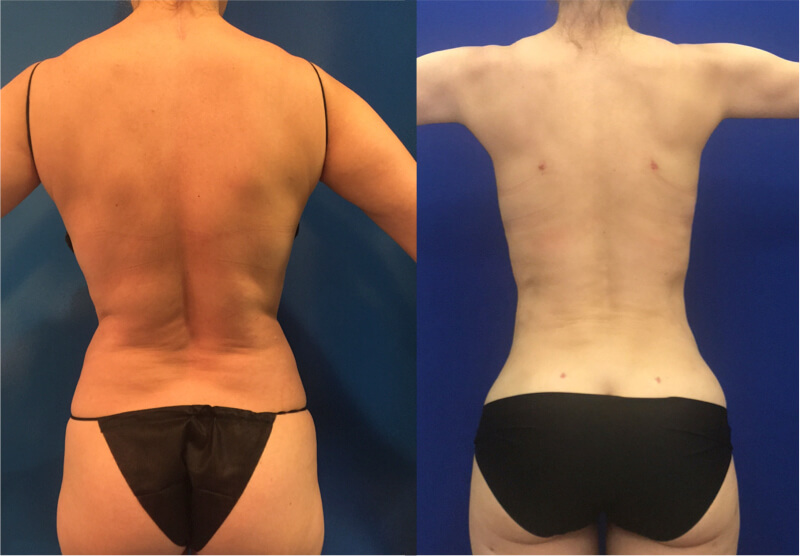 For more liposuction before and after photos, please visit our Before & After page.
Lipo 360 Cost NYC
Neinstein Plastic Surgery is committed to helping our NYC lipo 360 patients achieve the body they deserve. Learn more about what liposuction costs in New York City or contact us today to book your consultation with a specialist.