Full Body Liposuction with Lipo 360
Lipo 360, also known as the Modern Mommy Makeover, is a comprehensive liposuction procedure that targets multiple areas of body fat. The procedure is ideal for patients such as mothers who want to make dramatic changes to their body.
Mommy Makeovers have grown in popularity as anesthesia and pain management options have evolved. The combination of modern technology and advanced techniques has enabled liposuction specialists to offer complete body contouring in one procedure. This means plastic surgeons can achieve more in one procedure than ever before, which decreases downtime and recovery for patients and makes the procedure more accessible.
Modern Mommy Makeover with Lipo 360
Neinstein Plastic Surgery has built on the foundation that makes Lipo 360 and Mommy Makeover so popular to create a new procedure: the Modern Mommy Makeover. What makes the Modern Mommy Makeover procedure new and innovative is that it is effective for not only those who need help removing unwanted fat, but for very fit and thin people, as well.

Lipo 360 Procedure
Lipo 360 uses Vaser Ultrasound technology to selectively melt body fat for easy removal. By melting the fat, surgeons can remove it more consistently, and with less trauma and force. Plasma technology can also be used through the same incisions to help tighten the skin after fat removal.
For thinner individuals, such as mommy makeover patients, the goal is to remove the limited fat present for a better aesthetic. If the patient has very loose skin, or significant unwanted fat, the procedure will call for more significant plasma skin tightening.
As a member of the American Society of Aesthetic Plastic Surgeons Safety Committee Dr. Neinstein believes Lipo 360 should only done by surgeons with their own team, and who perform the procedure frequently. This is because Lipo 360 is a large procedure that requires anesthesia, and a carefully coordinated effort for best results and safety.
Lipo 360 Includes Liposuction Performed in 3 Stages Across the Following Areas:
Stage 1: Back Liposuction and Arm Liposuction
Lipo 360 typically begins with the patient's back. The surgeon removes excess fat in upper back rolls, bra fat, lower back fat and the lower waist. If needed, arm liposuction is performed in this phase of the procedure, as well.
Stage 2: Abdomen Liposuction
After treating the back and the arms, the patient is turned over for abdomen liposuction treatment.
Once the abdomen has had the extra fat melted and removed, a number of scenarios can follow:
Nothing more is needed: this typically occurs in young, fit, mommy makeover patients.
Plasma skin tightening: patient with mild loose skin.
Skin-only mini tummy tuck: patients with moderate loose skin after liposuction; the belly button and the muscles are not touched
Full tummy tuck: patients with very loose skin and bulging weak muscles.
Stage 3: Thigh Liposuction
Once the arms, back, and abdomen are treated we will typically move on to thigh liposuction. In this stage we tighten the inner thighs.
Additional Lipo 360 Treatment Areas
Breast enhancement with augmentations, lifts, and reductions can be added to the Lipo 360 procedure as needed.
After Care & Recovery
All patients of Neinstein Plastic Surgery receive a lymphatic massage with aromatherapy and meditation in order to ease the anxiety and stress of healing, and reduce swelling and scar tissue as fast as possible. If the procedure is extensive, our team will likely have you stay at one of our nearby partner hotels with a private nurse for the first night. This takes all the stress off of our patients and care givers. Dr. Neinstein will visit with the patient early the next morning and the nurses are trained to the ins and outs of these procedures so will be able to guide the patient through the first night and will be in constant communication with Dr. Neinstein.
Lipo 360 Before & After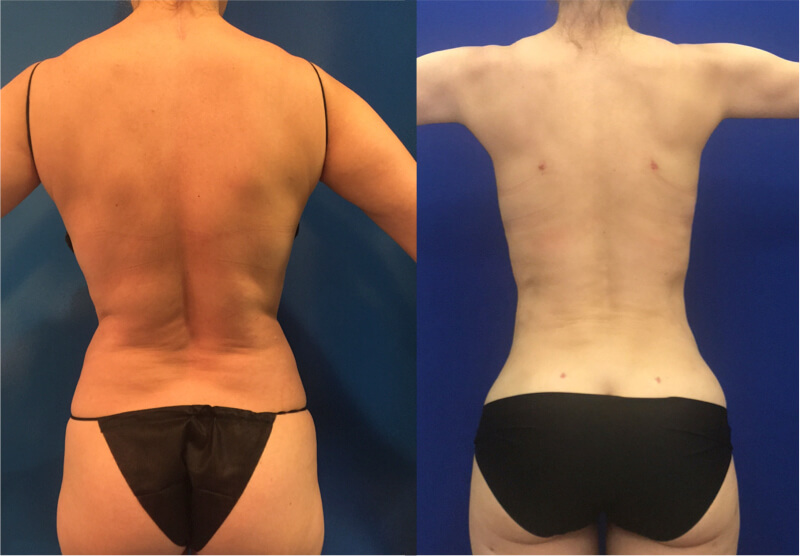 For more liposuction before and after photos, please visit our Before & After page.
Lipo 360 Cost NYC
Neinstein Plastic Surgery is committed to helping each and every patient achieve the body they deserve. Learn more about what liposuction costs or contact us today to book your lipo 360 consultation with a specialist.