Neinstein Plastic Surgery in the Community
Neinstein Plastic Surgery is more than just a medical practice, we are an integral part of our community. Our corporate culture has an ethos based in moral and civic excellence. The Neinstein Plastic Surgery Look Good, Feel Good, Do Good program is our new initiative to help bring these virtuous principles to life. The goal is simple, for Neinstein Plastic Surgery to give back to its community by supporting great causes.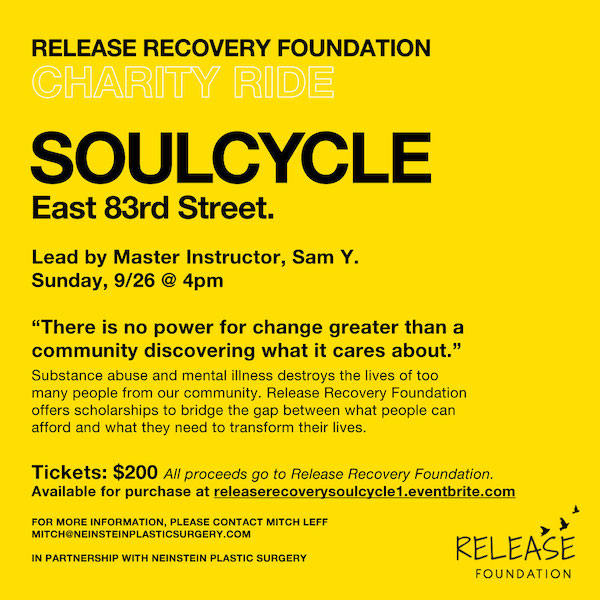 Our Initial event for the Look Good, Feel Good, Do Good program is the SoulCycle Charity Ride benefitting the Release Recovery Foundation. The ride will take place on Sunday September 26th 2021 at 4pm at SoulCycle 83rd Street (1470 3rd Ave, New York, NY 10028.) All proceeds from the ride go directly to this life saving foundation.
We are doing this because Substance abuse and mental illness destroys the lives of too many people from our communities. Release Recovery Foundation is a 501(c)3 nonprofit dedicated to ensuring all who are ready and willing to seek professional treatment are able. Release Recovery Foundation offers scholarships to bridge the gap between what people can afford and what they need to transform their lives.
"To practice five things under all circumstances constitutes perfect virtue; these five are gravity, generosity of soul, sincerity, earnestness, and kindness."

— Confucius
To learn more and donate to the Release Recovery Foundation click here.