Laser SKin Resurfacing in nYC
New York Laser Skin Resurfacing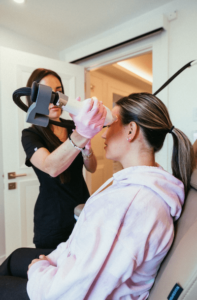 Laser Skin Resurfacing is for New Yorkers who want the best skin, with minimal lifestyle disturbance and quickest results. We are happy to say that our revolutionary Lutronic Ultra laser delivers on all 3!
At Neinstein Plastic Surgery we want to provide you with the latest in laser skin resurfacing technology. Dr. Ryan Neinstein and staff understand the cosmetic and dermatologic skin goals of our patients and want to provide real results. Our New York City based office provides patients with the most cutting-edge technology. As an advanced plastic surgery practice, incorporating full body laser treatments sets us apart from the rest. Our goal is to specialize in helping our patients feel their best, we now skin conditions to help you GLOW in your own skin, working from the inside out. The new skin cells that are produced are collagen enriched, skin appears smoother, tighter and give you an overall brighter appearance. Just 3 + sessions a year can help preserve the skin and create long lasting results.
WHAT IS THE LUTRONIC ULTRA ?
Lutronic Ultra is a non-ablative, Thulium laser, it works deeper into your skin without the potential of damaging the top visible layers of skin. Lutronic Ultra can resolve various skin conditions such as acne scarring, fine lines wrinkles, melasma, brown spots, stretch marks and actinic keratosis. It's a customizable, comfortable laser with minimal downtime, since efficiency and effectiveness is what New Yorkers are looking for. It differs from other traditional resurfacing lasers by rebuilding the skin from the inside out. It can be customized from mildly aggressive to extremely aggressive and it is cost effective since treatments can be done all year long.
Laser Skin Resurfacing with Neinstein Plastic Surgery in NYC
In our New York office you will be brought into our special laser treatment room. The treatment takes approximately 20 minutes. Prior to the treatment you will go over your skin conditions and concern and the best settings and level for your desired results with a fully trained APRN or MD. Your face will be cleaned prior to the treatment, the treatment will take place while we discuss post treatment care for your skin afterwards. Moisturizer will be applied after your treatment.
WHY CHOOSE US?
Neinstein Plastic Surgery is the best choice for skin resurfacing as we have the most cutting-edge options. We have New York City's finest well-trained doctors, and advanced practitioners that understand the science of lasers and anatomy of the body you will be in the best care with best results.
Frequently Asked Questions
"I had the best experience with Dr. Neinstein - both his bedside manner as well as the results from the work I had done."