Breast Augmentation in NYC
New York Breast Augmentation
Breast shape and size can be augmented with breast implants, fat, or the combination of the two. Most commonly is breast implants. Implants come in two main types saline and silicone. Virtually all of the breast augmentation patients in New York, Manhattan, Connecticut, Long Island, and New Jersey receive silicone gel breast implants. Silicone gel breast implants are the most natural when it comes to look and feel.
Breast Augmentation with Implants
Majority of patients will choose smooth round silicone gel implants otherwise known as "gummy bear implants". These implants look and feel more natural compared to saline implants. They are durable and give the most aesthetically pleasing appearance and feel.
How Do I We Choose Implant Size?
During our consultation we will want to hear your story about how you arrived at your empowering decision to make a change. Understanding your wishes, desires, and expectations will help us frame what is appropriate and safe to help you reach your goals. In general breast implant sizing starts with measuring the width of your breast in order to decide the width of the implant. As we go up in profile of the implant you will get more upper pole fullness or pronounced appearance of your implants.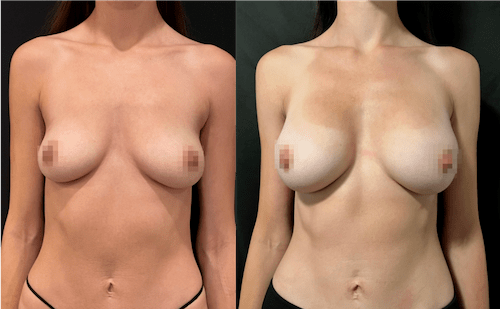 How long do the implants last?
It is important to know that most patients who get breast implants will likely need another procedure at some point. This is because their bodies will change in time. Pregnancy, breast feeding, weight changes, and lifestyle choices will determine the next procedure. It is not necessary to simply change the implants every 10 years. It is very common for patients several decades after having implants choose to downsize or even remove their implants and add a breast lift.
Where will my incisions be?
Most incisions will be through a small incision in the breast fold or coupled with a breast lift incision. This is our preferred incision because it reduces visible scarring on the areola and armpit and allows for the most surgical accuracy and precision. Not having to go through the breast itself which is what happens with an areola incision reduces loss of nipple sensation and breasts getting hard or "capsular contracture". Incisions in the fold fade and are hidden. All sutures are dissolvable. We ask people to place bacitracin on the incision twice a day for two weeks to support the breast augmentation healing than use skinuva scar cream to help the incision fade.
Do breast implants go above or below the muscle?
At Neinstein Plastic Surgery we prefer to go below the muscle for breast augmentation in the majority of cases. We find it gives a more natural result and is better for breast imaging and lowering the chance the breasts get hard or "capsular contracture".
Breast Augmentation with Fat
Hybrid Breast Augmentation Surgery
Many women would prefer a natural route to enhance size and shape of the breast. We used a closed collection purification process whereby the fat is collected purified and re-injected to enhance its ability to survive. We find fat grafting the breast is good for half a cup worth of size change. This process can be repeated if desired and can be combined with implants for patients who prefer a small implant but would like some extra custom cleavage. About 60-70% of the fat should survive but if you lose a lot of weight quickly or exercise enough to be a high metabolizer you could potentially lose more fat.
Fat Can:
Create Cleavage Lines
Create Side Boob
Rejuvenate aged skin in the breast and chest
Hide ripples from old breast implants
Treat Tuberous Breast deformities
Dr. Neinstein is proud to welcome Dr. Anna Steve. Dr. Steve is a highly sought after breast surgery specialist who was chosen after a two year global recruitment effort to lead the breast surgery program at Neinstein Plastic Surgery.
As we welcome Dr. Steve to the practice we are currently offering complementary breast surgery consultations and introductory pricing.
Please tell us more about your goals and concerns. Contact Dr. Anna at anna@neinstienplasticsurgery.com to start your journey today.

Breast Augmentation with Neinstein Plastic Surgery in NYC
We ask patients not to eat or drink anything after midnight the night before surgery. Your surgeon, nurse, and anesthesiologist will call you the day before surgery for any last-minute questions and to start the patient experience early to settle any normal anxiety or ease. We ask you wear no makeup and a zipped up top or button down top if possible the day of surgery. Total time from walking in to walking out the door is about 3 hours. Your chaperone can enjoy the city, wait in the office, or we can call them when you are ready to go. After-surgery care begins with a two-hour nap followed by a light snack and a hot shower. You will have small waterproof dressings in place that will protect your incisions in the shower and remain in place for 1 week.
Breast Augmentation Aftercare & recovery
On the first post-operative day you'll be seen by a member of the surgical team. Your breasts will feel firmer and sit higher than seems normal. Over the course of the first 2-3 weeks the implants will soften and begin to look more natural. Wearing a supportive bra without underwire is recommended for the first 6 weeks after surgery. Sun protection, scar massage and silicone products can all help optimize surgical scars. You will receive important information about when to begin scar management at your follow-up visits. We have all the lasers, lights, lotions and potions including our go-to
Skinuva Scar Cream
. We get it! Working out is important to both your physical and mental health. You will be stretching the day of surgery and lifting children in a week. Light exercise including intense cardio starting at two weeks. At four weeks you can resume chest activities with no weight bearing. At six weeks you may resume weight bearing chest activities.
"Dr. N and his team were accommodating to my schedule and pleasant to work with throughout the process. I'm so so happy with my results and I know they are going to keep getting better as the weeks go by."
The most impressive thing, aside from your insane talent and dedication to excellence… is how kind, approachable and humble you are. You have people telling you you are the greatest everyday I'm sure, and yet you don't carry yourself with a big ego. You actually take the time needed to give undivided attention to your patients and make them feel important. I have felt so cared fore throughout this entire process. . I just wanted to tell you that you are a really beautiful person inside and out making a real difference in so many womens lives. Also the fact that you are a person from Canada and made this type of life and mark for yourself is just so mind blowing. I bet your parents are just so proud of you.
Thank you a million times over ♥️
Thank you. Sometimes I tear up from happiness. I am blown away that these could be my results. It was Impossible for me to believe. I knew the surgery would improve how I looked and felt. The reality is that it has changed my world, the results are magical! True genius work here!
Just wanted to send this pic to you…. It has been 6 months since my surgery and I will be forever grateful to you for giving me back my pre-baby body. This has been such a life changer for me, the confidence that I have now being in my own body and the ability to wear all the clothes that I thought I would never be able to wear again. I have always worked out to try to get back to that body and because I wasn't getting or seeing the results, it made me start not to enjoy doing it. I continued just because I knew I needed to for my mind and self being. But now I have a totally new outlook on working out especially since I am seeing the results. I am so much stronger now and actually get excited when I have a training session with my Pilates trainer. My friends have noticed a huge change in my attitude and of course my body and I tell them "I owe it all to Dr. Neinstein". So thank you again for giving me back my confidence!!!! I tell everybody how amazing you and your whole team were before and after surgery and the after care experience was out of this world. ❤️. Happy Sunday!
Btw your daughter is absolute beautiful.