COOLSCULPTING REVISION IN NYC
New York Coolsculpting Revision
Coolsculpting revisions are common cases at Neinstein Plastic Surgery. We see about 5 patients per week to discuss revisions due to the serious complications patients experience from Coolsculpting.
Patients who come to Neinstein Plastic Surgery for Coolsculpting revisions are generally upset and often feel embarrassed that they spent a lot of time, energy, and money and saw no results. Our goal is to address the complications and provide a revision that will leave our patients happy with their body.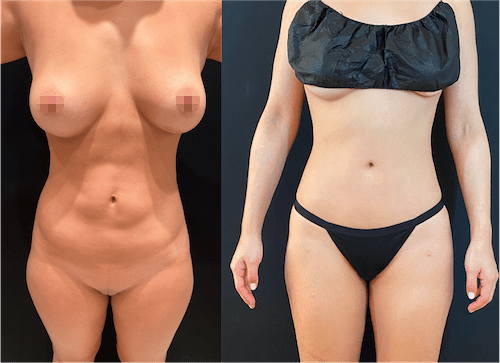 About Coolsculpting
Coolsculpting is a device that was created to allow non-surgeons to be able to offer patients a way of body contouring. The device and its technology is based on sound science. It had been found that fat cells or lip rich cells were more susceptible to cryo or freezing energy. This meant that if you could lower the temperature in an area of the body the fat cells should freeze and die but not the other cells like muscle, bone, skin and blood vessels. Over a few weeks to months it was thought that the body would absorb and remove the frozen fat.  However the promise of surgical results without surgery has led to a rapid rise in use and many unanticipated consequences. When comparing coolsculpting to liposuction coolsculpting is more costly, painful, and most importantly less predictable. The creators of Coolsculpting even list the following common immediate side effects in their fine print: Common Immediate Side Effects: Redness, firmness, pinching sensation, minor swelling, tenderness, bruising, stinging, tingling, numbness, skin sensitivity, mild to moderate pain and muscle cramping.
Why do patients from around the world seek Neinstein Plastic Surgery after Coolsculpting?
All patients receiving Coolsculpting will have redness, swelling, and soreness but rarely the fat may actually grow. The fat from coolsculpting does not just grow like regular fat but it becomes large, hard, and creates a very abnormal appearance. Scientific community has called this fat growing after Coolsculpting deformity "Paradoxical Adipose Hyperplasia After Cryolipolysis" This term means random, sudden, fat growth after freezing. We do not know why this happens or whom it will happen in. The emotional burden placed on patients who have this is immense. It can cause intense emotional distress and even shame in patients who sought to improve themselves when they are left scarred and deformed. Dr. Neinstein has become an expert in fixing, treating fat growth from coolsculpting and helping patients regain their confidence.
Coolsculpting Revision with Neinstein Plastic Surgery in NYC
Neinstein Plastic Surgery takes a very specific approach to fixing Coolsculpting deformities. We begin with an in person or virtual consultation to evaluate your issues and concerns.
For the procedure, typically we will use Vaser liposuction to melt the unwanted abnormal fat, special instruments to break down scar which will help skin redrape. In certain circumstances we will use J-Plasma skin tightening technology, fat grafting, and even skin removal.
Our team will always come up with a customized plan for you. Some important things to know for these revision cases is that complete resolution may not be possible, a longer recovery is anticipated, and multiple procedures may be required.
COOLSCULPTING REVISION COST NYC
The cost of Coolsculpting revision surgery varies based the individual complications to the prior procedure and patient goals. Our expert New York City team is ready to help you overcome Coolsculpting complications to help you reach the body you deserve.
Contact Neinstein Plastic Surgery today to book your consultation at our Upper East Side New York location. During your consultation our team will examine you and discuss pricing and payment options.
"Dr. Neinstein and his team are amazing! I am beyond impressed with my results and am extremely impressed by the responsiveness and care of the whole team."