New York Breast Lift
The goal of the breast lift procedure is to change the breast shape and re-establish harmony and youthfulness in the body.
Ideal candidates for a breast lift range from teenagers born with heavy breasts that interfere with daily life, to patients with drooping deflated breasts from pregnancy and maturity. Regardless of your reason for wanting a breast lift, our team will customize an operation to meet your goals.
Breast Lift Surgery with Neinstein Plastic Surgery
Breast Lift surgery is a procedure that removes excess breast skin and tightens breast tissue in order to give the breasts a more youthful, feminine, and perky look and feel. Some women are born with droopy breasts and many because of pregnancy, breast feeding, and weight fluctuations will experience a loss of breast shape and firmness over time. Re-establishing a youthful shape and feel can dramatically enhance a sense of self and self-confidence.
How is a Breast Lift Operation Performed?
The Neinstein Method for breast lift surgery is under general anesthesia with the goal of re-establishing a youthful shape, feel, and contour. We either use a lollipop or anchor pattern incision design. No need to worry as our scar reduction protocol will have the scars fading soon enough. Breast Lift surgery is performed in our state-of-the-art NYC surgical facility with our expert surgeons. The procedure takes approximately 2 to 2.5 hours for meticulous precision. All the sutures are dissolvable and no drains are used. The operation has a 4 out of 10 pain level and special numbing medication is applied at surgery to ease recovery.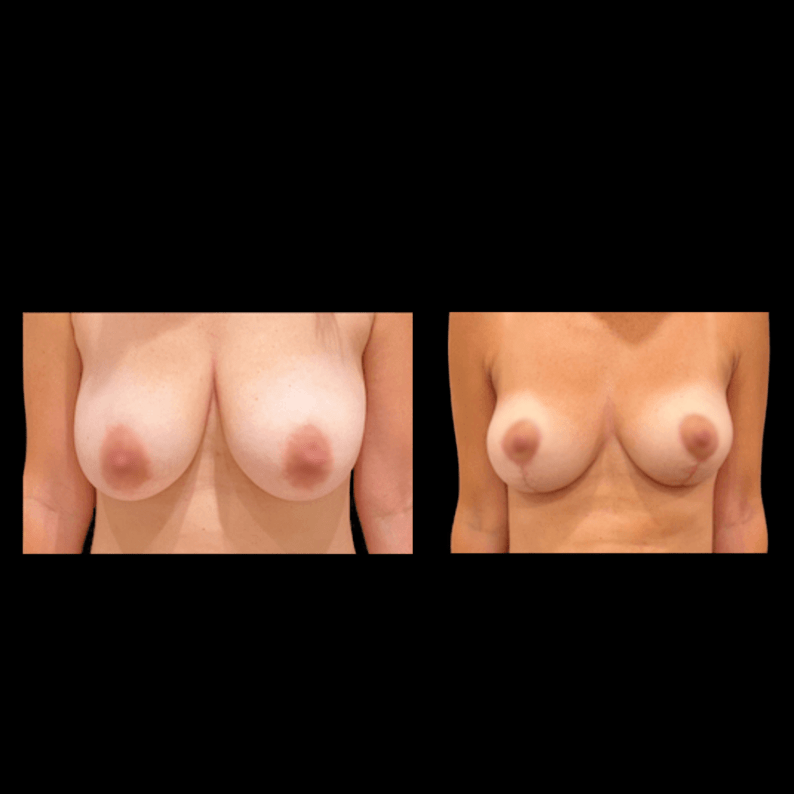 Will my Breasts get smaller with Breast Lift Surgery at Neinstein Plastic Surgery?
When we lift the breasts we remove some skin and tissue so yes, the breasts tend to get a little smaller but new volume can be added in the form of an implant or fat to help achieve the desired shape.
What are my options for adding volume to my Breast with Breast Lift Surgery at Neinstein Plastic Surgery?
Auto Augmentation: in this scenario we remove stretched skin and internally re-arrange the breast tissue
Breast Implants: many women will choose an elegant implant to help perk up the breast. We use smooth round silicone gel implants placed under the muscle. A petite implant can be used  for a gentle enhancement of shape and depending on desired outcome we can add more volume and a higher projection implant if a desired upper breast roundness is sought by the patient seeking breast lift surgery
Fat: we can use our breast boost technique essentially to fluff up the breast lift procedure. We use some purified fat focusing on the cleavage and upper pole of the breast.
These procedures can be combined for instance many will choose a petite implant with some purified fat in the cleavage area. As well, we may suggest adding an internal bra which is a dissolving scaffold or hammock for the implant that will help in the long-term hold the position of the implant and breast.
Recovery & Downtime
Patients rest at home for 2-3 days and a wear a sports bra for 2-3 weeks to support the healing breasts. Patients can go back to work in 3-4 days and resume light exercise in 3 weeks gradually increasing the intensity of the workouts. To take the next step on your confidence journey please call 212-249-0949 or email us your story for more information at 
info@neinsteinplasticsurgery.com
 we are excited to meet you and be part of your wellness journey.
Frequently Asked Questions About Breast Lift Surgery
Breast Lift with Implants
Breast lift with implants can be used to rejuvenate the look of your breasts after pregnancy, weight fluctuations, or gravity have left your breasts with noticeable signs of aging. Common signs of the aging breast are loss of fullness to the upper portion of the breast, nipples that no longer sit as high as they used to, loose skin, hanging tissue and stretching of the nipple-areola complex.
The goal of the breast lift is to reshape and re-drape your existing breast tissue to rejuvenate the appearance. This includes raising nipple position, making the areola smaller, and moving the nipple back to the center of the breast for a perkier look.
An implant can be combine with a breast lift to restore volume lost over time. The structure of an implant is especially helpful to restore volume to the upper portion of the breast. The photos below demonstrate the look of a breast lift alone, compared to the results with a breast lift combined with an implant.
Some women prefer the look of a breast lift alone, which results in a more natural slope to the upper portion of the breast, and others prefer the look of a breast lift with an implant, which created a rounder, tighter look.
Breast lift without implants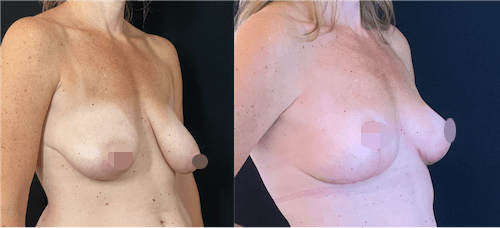 Breast lift with implants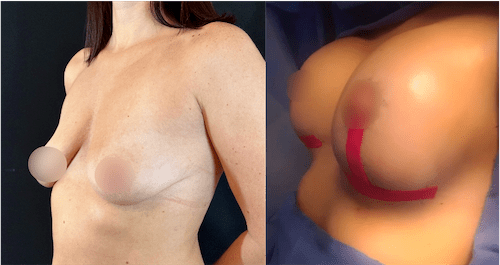 Frequently Asked Questions About Breast Lift Surgery With Implants
"Dr. N and his team were accommodating to my schedule and pleasant to work with throughout the process. I'm so so happy with my results and I know they are going to keep getting better as the weeks go by."