Modern Mommy Makeover in NYC
New York Modern Mommy Makeover
Mommy Makeover surgery combines multiple plastic surgery procedures in one setting to address the bodily changes caused by pregnancy and children, as well as the desired aesthetic outcomes of the patient.
Mommy Makeovers typically focus on loose skin, muscle separation or diastasis recti, stubborn fat, and droopy or deflated breasts.
Simply put, we help mothers and grandmothers feel confident by lifting things that fell, tightening things that are loose, and removing and sculpting stubborn fat. To address these areas, mommy makeover surgery can include any combination of:
Lipo360
Muscle repair
Mini tuck or full tummy tuck
Breast surgery
Petite Brazilian butt lift
Other areas of sculpting and tucking.
Given the number of procedures that must work in harmony to perform a mommy makeover, it is imperative that patients obtain the knowledge and information necessary to make the best educated decision for their care.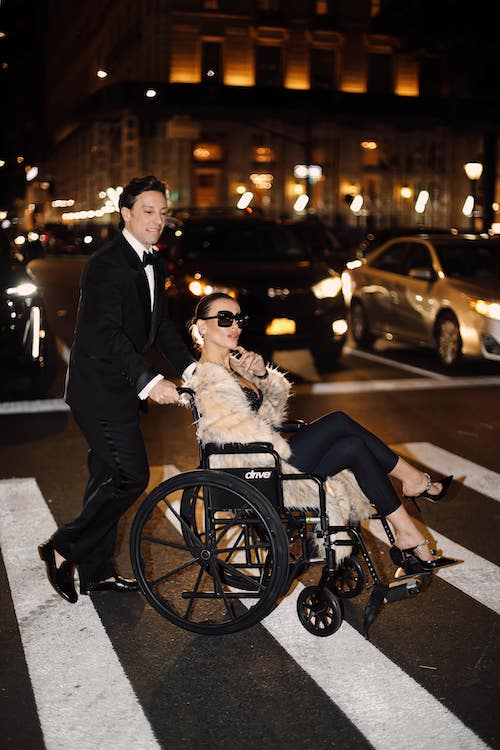 Who is a Mommy Makeover Candidate?
During the mommy makeover consultation, many women say they simply do not feel like themselves after pregnancy and breast feeding. They feel like their body has been ravaged by their children and no amount of diet and exercise can undo the changes.
This feeling is all too true because many of the changes from pregnancy have nothing to do with diet and exercise; they are physical changes to the body that cannot be altered without pregnancy. From extra loose skin, to stretched far apart muscles and deflated breasts the effects of pregnancy and breast feeding can be dramatic and if you experience these changes you may be a candidate for mommy makeover surgery.
As patients consider a mommy makeover, they often ask our team questions like, "How much does it cost?", "Where is the scar?", "How long off of work?", and "When can I go back to exercise?".
While these are all valid questions, what's more important at the early stages of your mommy makeover journey is to answer some questions yourself:
Do I really want to have a big surgery?
Am I doing this for me or is someone pressuring me into doing something I don't want to do?
Am I ready emotionally and physically to have surgery?
Do I have the support system of family, friends, work, financial etc. that will enable me to pursue this decision?
Am I willing to the best of my abilities follow Dr. Neinstein and his team's strict protocols for before and after surgery to prevent complications and get the best results?
If you are able to answer these questions in the affirmative, it's likely appropriate to take the next steps in your journey.
What is the Experience Really like?
Hear patient stories in their own words.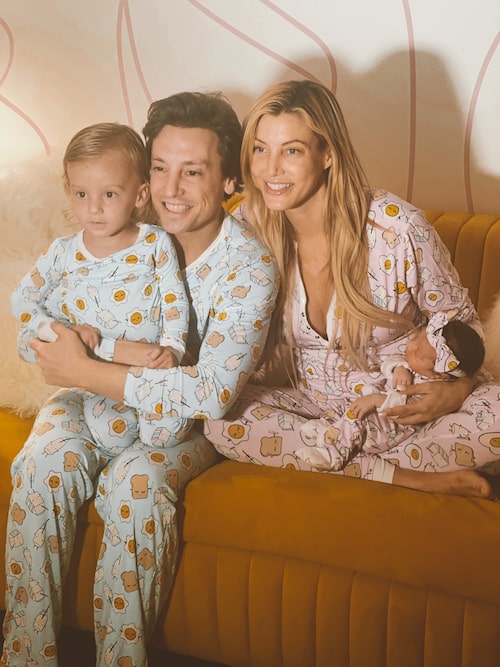 Love you Baby!
-Dr. Neinstein with his wife Lauren, son Aspen and baby Blair.
A note from Dr. Neinstein
At Neinstein Plastic Surgery, Dr. Neinstein himself primarily focuses on our NYC mommy makeover procedures. As a son, husband, and father his goal in surgery and in life is to make the mom's feel special because we all owe them a lifelong debt of gratitude.
In keeping with our ethos of safety and predictably our modern mommy makeover surgeries have a very low psychological burden. This means mothers, husbands, and partners have a very high acceptance and satisfaction rate with the procedure. Since our goals are to reverse physical changes that are out of the patients control it is almost like a reconstructive procedure in a sense. This gives families confidence that they are not taking time, energy, and resources away from the family for frivolous reasons. The psychological wellness and quality of life improvements with modern Mommy Makeover extend to the whole family because when mom is happy, we are all happy.
"Given that I have spent 20 years creating knowledge, skill, a team, and infrastructure to what we believe is the best possible mommy makeover surgical experience on the planet, we want to connect with our patients and establish a long term relationship. If I see 10 women in a day seeking surgery to overcome some of the changes that occurred from pregnancy or breastfeeding, I may do 10 different operations, this is because I use all the surgical tricks I have accumulated to come up with a unique and different customized surgical plan for each patient. I always say that surgery is a marriage and we – patient and Doctor – are burning the ships, meaning we are both committing whole-heartedly to this. While it may seem daunting to some, and that's why most surgeons rarely do such involved procedures, my team and I this is the best part of the operation; we truly create rich and meaningful relationships with our patients on their journey to becoming their happiest and best self." – Dr. Neinstein
Mommy Makeover with Neinstein Plastic Surgery in NYC
The primary areas addressed in a mommy makeover are loose skin, muscle separation or diastasis recti, stubborn fat, and deflated or droopy breasts.
Mommy makeovers can address these areas individually, or in conjunction with one another by incorporating procedures such as tummy tuck, Lipo 360, and c-section shelf repair.
What makes Mommy Makeover at Neinstein Plastic Surgery Different and modern?
Traditionally, changes to the body from pregnancy resulted in plastic surgeons offering cookie cutter operations to moms. These mommy makeover procedures often did not address the unique characteristics of each patient, their goals, desires, and lifestyle.
At Neinstein Plastic Surgery we focus on a unique, patient-centric approach to the mommy makeover. There are a number of aspects of Neinstein Plastic Surgery's mommy makeover that make the procedure both unique to our NYC plastic surgery practice and modern:
We use innovative techniques for muscle repair, fat removal, skin tightening and breast enhancement
We offer minimally invasive procedures for mom's with limited downtime
We offer complete and thorough modern mommy makeover procedures for those who have set aside more downtime
We never use a cookie cutter approach
In addition, Neinstein Plastic Surgery has in-house specialists such as Dr. Anna and Dr. Chris to make every aspect of your surgery world-class.
Dr. Anna Steve
With the addition of breast surgery specialist Dr. Anna Steve, who has a deep understanding of modern techniques in breast surgery (especially breast revision surgery), you can have a hybrid procedure. This means Dr. Steve will simultaneously work alongside Dr. Neinstein for your surgery.
Dr. Chris Funderburk
To better support patient demand for our proven abilities in Mommy Makeover surgery Dr. Chris Funderburk – who is the kindest southern gentleman you will ever meet – has truly become an on par world expert in these procedures. Dr. Funderburk's patients get the same team, facility, and resources as they would with Dr. Neinstein.
An Emphasis On Safety
Dr. Neinstein sits on the safety committee for the American Society of Plastic Surgery and takes the responsibility of performing surgery on mothers very seriously. Here are some of the unique safety aspects that are involved in modern Mommy Makeover Surgery in NYC with Dr. Neinstein.
Anesthesiology
Operating Room Staff
Pain Control
Anesthesiology
Neinstein Plastic Surgery only use board certified anesthesiologists for our general anesthesia procedures. These doctors have been hand-selected and have worked alongside Dr. Neinstein for years. They bring many years of hospital based experience to the practice. They will call the patients before the operation to discuss their unique Mommy Makeover operation and create a custom plan for the smoothest and safest results.
Operating Room Staff
Pain Control
Mommy Makeover Surgery Recovery
Let's talk about healing, traveling and exercise.
Week 1: Patients should expect soreness and a full week of rest downtime.
Week 2: Most patients are moving around, driving, and returning to work.
Month 1: You will be in garments, having massages, living normally – going out to dinner, etc.
Month 2: You will start weaning off garments. Massages will continue, and you will begin easing back into exercise.
4-6 week lead time for beach vacation
12 week minimum lead time for wedding
Procedure scars will fade over a year. We use antibiotic ointment to heal the incision for two weeks then we use Skinuva and silicone scar patches.
Mommy Makeover Surgery Cost in NYC?
The cost of mommy makeover and tummy tuck will vary from patient to patient depending on their unique goals and procedural aspirations.
When thinking of costs, patients need to consider facility fees, anesthesia fees, surgeon fees, after care, garments, and medications.If you are feeling excited, nervous, and inspired you are ready to start the journey.
Please contact us and our concierge team will be in touch to learn your story (a bit about you, goals, fears, concerns) and graciously start a meaningful life changing process.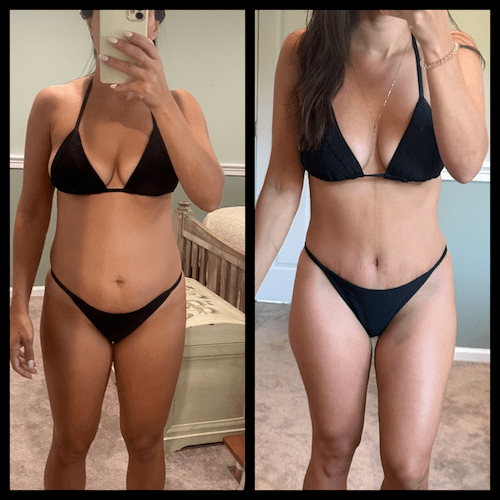 NYC mom of 3, three weeks after Lipo360, muscle repair & tummy tuck
Frequently Asked Questions
The most impressive thing, aside from your insane talent and dedication to excellence… is how kind, approachable and humble you are. You have people telling you you are the greatest everyday I'm sure, and yet you don't carry yourself with a big ego. You actually take the time needed to give undivided attention to your patients and make them feel important. I have felt so cared fore throughout this entire process. . I just wanted to tell you that you are a really beautiful person inside and out making a real difference in so many womens lives. Also the fact that you are a person from Canada and made this type of life and mark for yourself is just so mind blowing. I bet your parents are just so proud of you.
Thank you a million times over ♥️
Thank you. Sometimes I tear up from happiness. I am blown away that these could be my results. It was Impossible for me to believe. I knew the surgery would improve how I looked and felt. The reality is that it has changed my world, the results are magical! True genius work here!
Just wanted to send this pic to you…. It has been 6 months since my surgery and I will be forever grateful to you for giving me back my pre-baby body. This has been such a life changer for me, the confidence that I have now being in my own body and the ability to wear all the clothes that I thought I would never be able to wear again. I have always worked out to try to get back to that body and because I wasn't getting or seeing the results, it made me start not to enjoy doing it. I continued just because I knew I needed to for my mind and self being. But now I have a totally new outlook on working out especially since I am seeing the results. I am so much stronger now and actually get excited when I have a training session with my Pilates trainer. My friends have noticed a huge change in my attitude and of course my body and I tell them "I owe it all to Dr. Neinstein". So thank you again for giving me back my confidence!!!! I tell everybody how amazing you and your whole team were before and after surgery and the after care experience was out of this world. ❤️. Happy Sunday!
Btw your daughter is absolute beautiful.
Patient Photo Submissions