Liposuction in New York
Neinstein Plastic Surgery is a leading New York City practice that specializes in liposuction. To help our NYC liposuction patients understand their path to treatment, below we have outlined the liposuction surgery process from beginning to end. From your initial liposuction consultation with our Upper East Side team, to the point of being fully healed, we're confident you'll love Neinstein Plastic Surgery.
NYC Liposuction Consultation
The first step for a liposuction patient is to personally meet with Dr. Neinstein at Neinstein Plastic Surgery's Upper East Side New York location. Many clinics delegate consultations to nurses or other staff, however Dr. Neinstein believes building a strong doctor-patient relationship from the start.
During the liposuction consultation, Dr. Neinstein reviews medical history, examines the patient's desired treatment area(s), and gives patients the opportunity to ask questions. After the physical exam Dr. Neinstein works with patients to tailor the treatment plan that is best for their goals.
The liposuction treatment plan covers:
Determining the need for any pre-operative blood work or testing (rare)
The areas to treat with liposuction
What type of anesthesia is best
After meeting with Dr. Neinstein, patients are introduced to the Patient Care Coordinators for their procedure. Patient Care Coordinators handle all discussions regarding finances and surgery logistics, such as:
Scheduling surgery date and time
Understanding the financial agreements
Planning travel, Manhattan hotel accommodations, nursing as needed
Coordinating a chaperone home, ride home, or Uber home (based on procedure) from our Upper East Side, New York office
Planning time off of work as needed
Preparing For Liposuction Surgery
Leading up to surgery, patients have clear and constant communication with Dr. Neinstein and the Neinstein Plastic Surgery team.
We ask that patients stop all vitamins, minerals, supplements, and medications not approved by Dr. Neinstein.
Prior to surgery, patients should begin arnica and bromelain to help minimize surgical bruising.
In addition, our team sends emails with in-depth instructions regarding diets, food to avoids, and supplies to purchase.
The day before surgery, our staff calls patients to confirm their arrival and pickup time. Patients should pick up their prescriptions from their pharmacy and make sure their home environment is ready for their return.
Local, Awake and Tumescent liposuction patients may have a light breakfast, but should avoid caffeine.
Twilight, IV Sedation and General Anesthesia patients may not eat or drink after midnight the night before surgery.
On the day of surgery, patients should wear loose fitting clothing, and remove any makeup or jewelry (including all piercings). When patients arrive, they are greeted by the team and a nurse prepares them for their liposuction.
Neinstein Plastic Surgery follows New York State's standardized process for surgery, similar to local hospitals. We confirm the patient name, procedure, medical history and perform a pregnancy test if indicated. We have patients change into disposable garments, and provide socks and a warm gown. Once the procedure is confirmed, patients sign consent documentation. From there, we proceed to liposuction anesthesia.
Before entering the operating room, pre-operative pictures are taken and Dr. Neinstein performs pre-operative markings patients may be actively involved in the process. The photos are stored in an encrypted cloud and will only be used with your permission.
Liposuction Anesthesia
The goal of liposuction anesthesia is to make patients comfortable and pain-free during their liposuction procedures, and ensure a speedy recovery. At Neinstein Plastic Surgery we have created an environment where we can offer everything from general anesthesia, to IV sedation and local anesthesia, in a fully-accredited operating room with Board- Certified Anesthesiologists who have over 30 years of experience.
When it comes to liposuction anesthesia, every patient is different, so the type of anesthesia that is best can vary from case-to-case. At Neinstein Plastic Surgery we  discuss all aspects liposuction procedures and help patients evaluate and decide on the type of anesthesia that will be best for them.
Local Liposuction, Tumescent Liposuction & Awake Liposuction
Local, tumescent and awake liposuction are all different terms for the same approach. In this approach, oral medication is provided 30 minutes before a liposuction procedure to relax the patient and block pain from occurring. Once oral medication is administered, patients enter our accredited operating room and a special numbing solution is applied under the skin and into the target liposuction areas. The patient is monitored by an anesthesia machine and there is no type of breathing tube required.
Candidates for Local Anesthesia
Patients who are having a few areas being done (2-3 areas)
Patients who are looking for the fastest recovery possible
Benefits of Local Anesthesia
None of the risks associated with general anesthesia
Faster recovery
Considerations
Local anesthesia minimizes the number of areas that can be treated since the amount of numbing medication allowed is weight based. If patients want liposuction in multiple areas, they will not have enough numbing medication. In this scenario, patients will need multiple local procedures or change to a deeper type of sedation.
Patients concerned about any sensation from surgery are not good candidates for local anesthesia (and this should be communicated to the surgical team).
At Neinstein Plastic Surgery, 70% of liposuction cases are performed with local awake tumescent liposuction. After over 1,000 cases, the surgical team has not encountered any negative patient experiences in the operating room.
IV Sedation or Twilight Anesthesia
IV Sedation is the second most common type of anesthesia and is becoming more popular with patients. With IV sedation, a board-certified anesthesiologist administers an intravenous medication to ensure the patients does not feel or remember the surgery. The patient is monitored by an anesthesia machine and there is no type of breathing tube required.
Candidates for IV Sedation
Any patient may choose to have IV sedation for any case. Most commonly, patients having more than 3 areas of liposuction and patients who have some anxiety about being awake during a procedure select IV sedation.
Benefits of IV Sedation
No awareness or memory of the procedure
Procedure monitored by a Board Certified Anesthesiologist
Considerations
Increase in cost (approximately $600-$2,000) depending on the length of procedure
Patients become drowsy and must stay in the recovery room longer than patients who did not have IV sedation
General Anesthesia
General anesthesia for liposuction is typically used in larger cases. It involves receiving intravenous medication to ensure you are not aware and are unable to feel the procedure. There will typically also be airway support because surgery in these cases involve being on your stomach or face down for part of the procedure. When going under general anesthesia, many patients will add procedures such as breast surgery, arm lifts, tummy tucks, or thigh lifts to their surgical plans.
Candidates for General Anesthesia
Patients having extensive and multiple different types of procedures
Benefits of General Anesthesia
We are able to perform the spectrum of procedures you desire in one setting
Considerations
There are increased risks associated with general anesthesia. While the risks are incredibly low, we still mitigate them in every possible way. We reduce risks of blood-clots by using massage boots or sequential compression devices to keep blood flowing during surgery, and use blood thinners as needed depending on the type of procedure and expected down time after surgery.
Liposuction Surgery with Neinstein Plastic Surgery in NYC
When it is time for liposuction surgery, patients are brought to the operating room and introduced to their team. Patients have time to get acquainted with the room and use the bathroom one more time needed.
Once in the operating room and comfortable, we play music of the patient's choice to calm and relaxing. From there, we conduct a "timeout" which is similar to a preflight checklist. During the timeout, the surgical staff triple checks the patient, procedure and ensures everything is in order. Similar to NASA, we don't take any chances.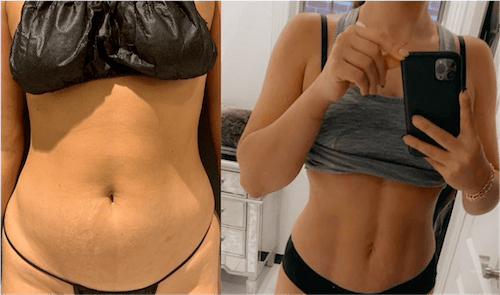 To begin the procedure, Dr. Neinstein gently injects numbing solution into the small incision sites. Next, the surgical team prepares the areas with anti-septic and Dr. Neinstein scrubs in and puts on a surgical gown, gloves, and cap to prevent infection.
Dr. Neinstein then places the numbing fluid under the skin into the fat. This is the "tumescent" phase of the procedure. The treated areas instantly become numb and patients feel some slight pressure when the fluid is going in.
The numbing fluid recipe must be coordinated by a plastic surgeon and liposuction specialist who performs the procedure regularly and is well versed in the pharmacology of lidocaine to ensure there is no chance of toxicity.
The other key component of the numbing solution is adrenaline this will reducing bruising. It takes approximately 20 minutes to work
During the procedure patients are asked to move around from time to time to give the best possible angle for the procedure. Some patients enjoy watching their procedure and some choose to wear eye masks. Those with deeper sedation will not experience any part of this.
Once the liposuction numbing fluid is prepared Dr. Neinstein uses VASER liposuction to melt the unwanted fat. He then uses very small (stir stick-sized) cannulas with the microaire liposuction system through the same incision to gently remove the unwanted melted fat. To finish the procedure in most circumstances, plasma skin tightening is used. Again, the same small incision is used for ionized helium or plasma device to work shrinking the skin itself and shrinking the skin down to the muscle.
At the end of the procedure, once Dr. Neinstein has checked the area visually and manually multiple times, nurses prepare patients to go home. We place a light absorbent pad over the incisions and provide a snug fitting compression garment to support healing. We then give patents a light snack and some juice to enjoy while we review post procedure instructions with them and their caretaker. Patients without an escort home are monitored in recovery for a longer period.
Liposuction Recovery & After Care
Patients feel tired and a bit sore the day after surgery. General recovery guidelines are as follows:
We ask patients to finish their antibiotics until the pill case is empty and take the anti-nausea medication as needed.
Dr. Neinstein prefers patients to use oral medication the first 24 hours to ensure a smooth healing period.
Patients should have a light meal that has very little salt and drink plenty of water.
Patients will notice some of the remaining numbing fluid drains out and this is 100% normal. The fluid may be pink, rest assured that it is numbing fluid mixed with a drop or two of blood and not blood.
Patients may change the pads under the garment as needed and may take the garment off and shower. We ask patients to take the garment off on the bed as blood pressure will likely drop and we don't want them to faint.
Take a light shower and allow the shampoo to run over all incisions. There is no need to scrub them. After you pad dry place a small amount of bacitracin on the incision and put the garment back on.
Patients may take the garment off from time to time throughout the day to help prevent ridges from forming. For the first three days we ask patients to lie down or sit up as much as possible because sitting can create folds and ridges.
All patients should take stool softener until they have a normal bowel movement to prevent painful constipation. The narcotic medication can really bind up the gut and it can be quite unpleasant.
During the three weeks after surgery we have found that a low salt plant-based diet will have anti-inflammatory effects and promote healing.
Patients weight typically goes up because of retained water and dense scar tissue in some. This is normal and will start to come off around the 3rd or 4th week.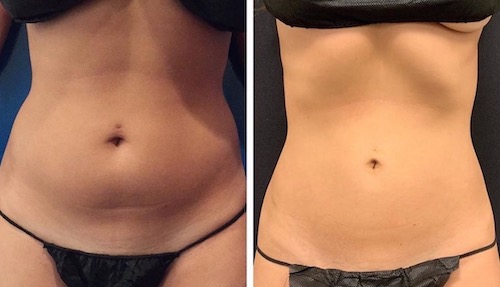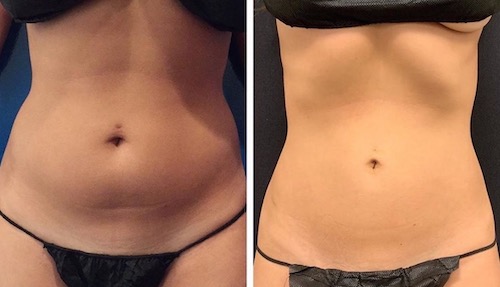 More About the Garment: Dr. Neinstein has evaluated and tried every garment manufacturer. Currently, we feel the Marena garment company is the best combination of form, function, and comfort. We have found that wearing the garment 24/7 or as much as possible for three weeks followed by wearing it at night for 3 weeks helps counteract the swelling caused by the procedure. If the garment is starting to feel too big as you shrink simply go on the Marena website or Amazon and order a smaller size of the same version. They are machine washable.
Post-Operative Treatments
We call each and every patient the night of surgery and are accessible 24/7 for any questions or emergencies. Dr. Neinstein believes the healing process is physical and mental and we constantly help patients adjust. Every patient is different in this sense and our staff adjust to unique needs.
Dr. Neinstein will typically want to see patient within a week of surgery himself to ensure there is no abnormal collections, bruising, or infection. It is always easier to treat issues early on as opposed to leaving them to fester. After that we usually see patients at 1 month, 3 month, 6 months, and 1 year after surgery.
Most scars will fade to a blemish in about 3-6 months.
Liposuction Frequently Asked Questions
This is the most common question we get!
Short Answer: No
Long Answer: After puberty we have a set number of fat cells. Liposuction removes stubborn cells. We do not take every cell because we want you to look good not overly done. The cells that remain can grow and shrink depending on weight gain or weight loss. It is theoretically possible that if you have a large weight gain, say 30 pounds not the 5-7 between Thanksgiving and Christmas (caveat this is weight gain unrelated to pregnancy) that things could look a bit weird. In over 5000 cases I have never seen it. As with everything else I do, if it happens we will figure out a way to solve the problem. As I always say just because something is unknown it does not mean it is unknowable.
LIPOSUCTION RESULTS
We have found that most swelling, scar tissue, and bruising really start to come down at the second week. Patients will typically be able to return to work in 2-3 days and light exercise in 2-3 weeks. Some patients will obtain their maximal results at 3 months and some may see changes for up to a year
The goal of this whole process is to give patients an opportunity to enjoy their life with the best version of themselves. Almost all patients find the surgical change incredibly motivating and go on to live a healthier, happier, more fulfilling life.
LIPOSUCTION COST NEW YORK
Neinstein Plastic Surgery is committed to helping patients achieve the best liposuction NYC has to offer. Learn more about what liposuction costs or contact us  today to book your consultation with a liposuction specialist.
"I had a great experience with Dr. Neinstein's team! Everyone was very professional and personable. I was a little nervous going in but was quickly put at easy by the friendly supportive staff. Dr. Neinstein was very kind, quick to answer all of my questions, and made the experience overall excellent. Not to mention I am also extremely happy with the results."