Skin Tightening & Cellulite Treatments
Neinstein Plastic Surgery offers non-surgical facial and body skin tightening enhancements with the Venus Legacy platform.
Many of our liposuction patients benefit from the use of radiofrequency to reduce scar tissue and help tighten skin. Venus Legacy delivers safe and effective treatments; benefits include:
Body contouring
Smoothing out cellulite
Tightening sagging skin
Reduction of fine lines and wrinkles on the face and body
Comfortable treatment with no downtime
The procedure is done in the office and feels as though you are having a hot stone massage.
More About Venus Legacy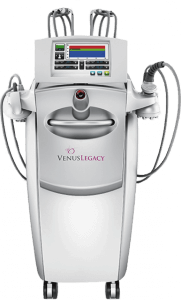 Venus Legacy is a highly advanced non-invasive medical device that effectively resolves challenging face and body aesthetic needs, such as non-surgical cellulite reduction and wrinkle reduction. Treatments are comfortable with no downtime using RF technology that is safe for all skin types. Venus Legacy is powered by proprietary technology that combines Multi-Polar Radio Frequency and Pulsed Electro Magnetic Fields, and features cutting-edge VariPulse technology.