EMSculpt Body Contouring
Where Athletics Meets Aesthetics
What is EMSculpt?
Neinstein Plastic Surgery is among the first plastic surgery practices in Manhattan, New York to implement EMSculpt body contouring technology.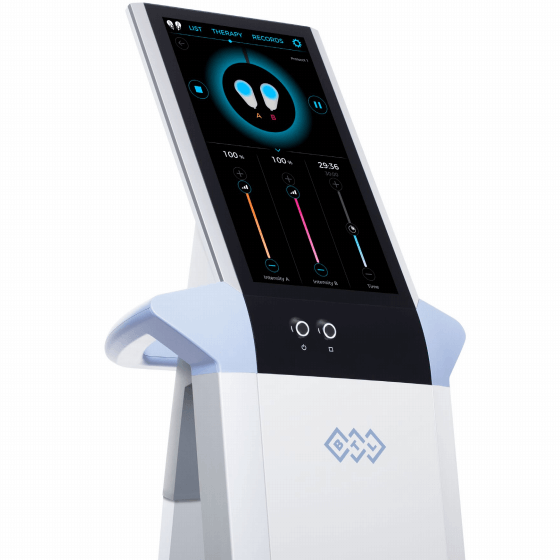 EMSculpt is regarded by many as the future of body contouring. It is the first FDA-approved device to build and sculpt muscles. This non-surgical aesthetic treatment safely and effortlessly builds muscle in areas such as in the abdomen and buttocks, and delivers results in a fraction of the time it would take traditional exercise.
Below, Dr. Neinstein has outlined frequently asked questions about this cutting-edge procedure.
How Does EMSculpt Technology Work?
The EMSculpt device is strapped on to the abdomen or buttocks for 30 minutes. From there, the technology uses high-intensity focused electromagnetic energy to flex your muscles 300 times their inherent capacity. The feeling is endorphin releasing similar to a full body intense workout. Similar to a traditional workout, many times you will leave the office on a natural high.
Does EMSculpt Hurt?
There is no pain. As the machine engages with your muscles you will feel intense rhythmic muscle contractions . You can lay down and relax during the treatment.
How Long is The Downtime? When Can You Return to Normal Exercise?
There is no downtime with EMSculpt. Since the treatment is targeted, patients do not have the full body lactic acid production associated with a full body workout, so same-day exercise can occur as well.
Results at the gym will be enhanced and you will notice your motivation increase with the complimentary results from EMSculpt.
How Fast Will I See Results from EMSculpt?
You begin to feel tangible results in your abdomen and buttocks immediately after first treatment. Maximum results are usually reported two to four weeks after the last session and continue to improve for several weeks following the complete treatment plan.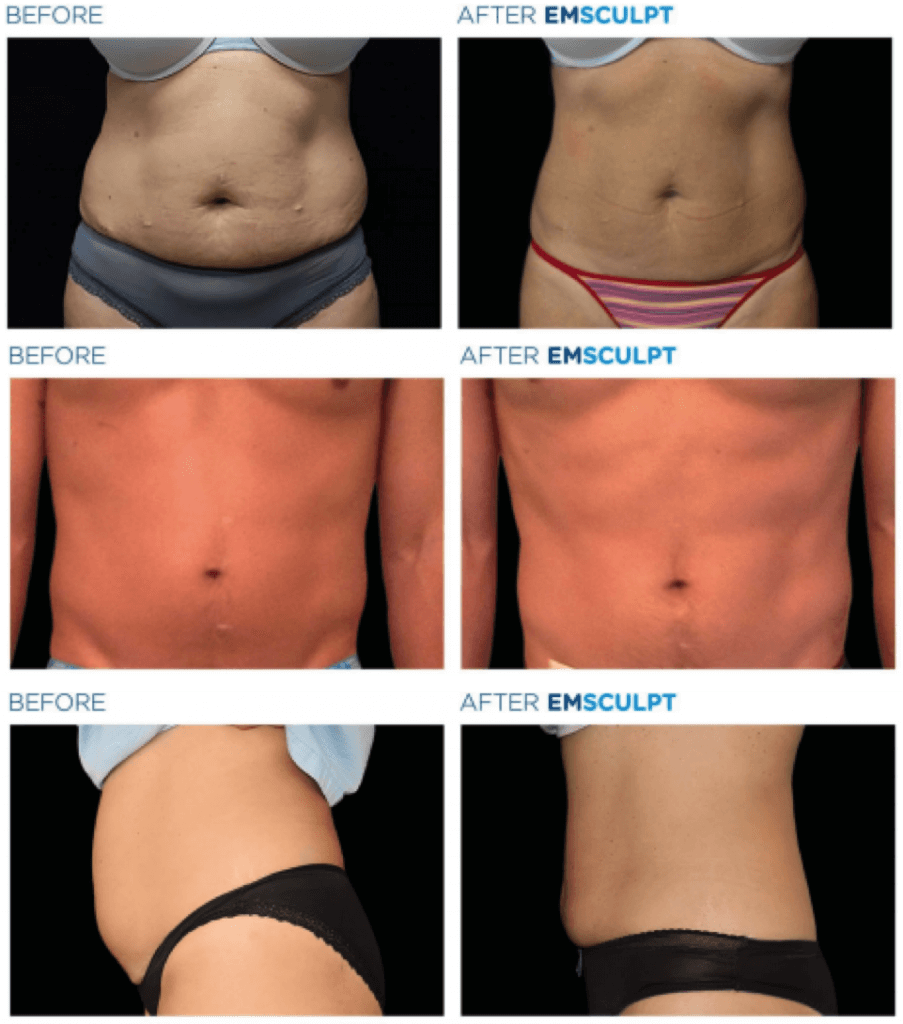 How Many Sessions of EMSculpt do I Need?
For ideal results patients should have four 30-minute sessions in two weeks spaced every 2-3 days.
What About Maintaining my Results with EMSculpt?
Most patients can maintain results with their own workouts and one session every 1-2 months.
Can I do EMSculpt With a Friend?
Yes, two patients can be treated at once – but only on the abdomen. No better way to catch up with your bestie than over 20,000 sit ups.
Who Are Ideal Candidates for EMSculpt?
Good candidates are physically active and adhere to a healthy diet and lifestyle. They are seeking results beyond their plateau.
What is The Difference Between CoolSculpting and EMScuplting?
Coolsculpting is a painful procedure which over the course of an hour freezes fat. The body attempts to remove that frozen fat over the next 4-6 weeks. EMSculpt is a painless procedure which removes fat and builds muscle in 30 minutes without pain, redness, swelling, delivered with the most consistent results.
Is EMSculpt Safe?
Yes, EMSculpt electromagnetic energy is completely safe. For further reading, see The National Cancer Institute's research on the differences between safe and dangerous electromagnetic energy.
How Much Does EMSculpt Cost?
Neinstein Plastic Surgery offers special Emsculpt pricing and introductory packages. Please contact us today to learn more.
In His Own Words: Dr. Neinstein on Why Believes in EMSculpt for New Yorkers and His NYC Practice
As a plastic surgeon and liposuction specialist, I have always been skeptical about non-surgical body contouring devices. I found them unreliable and left patients unhappy.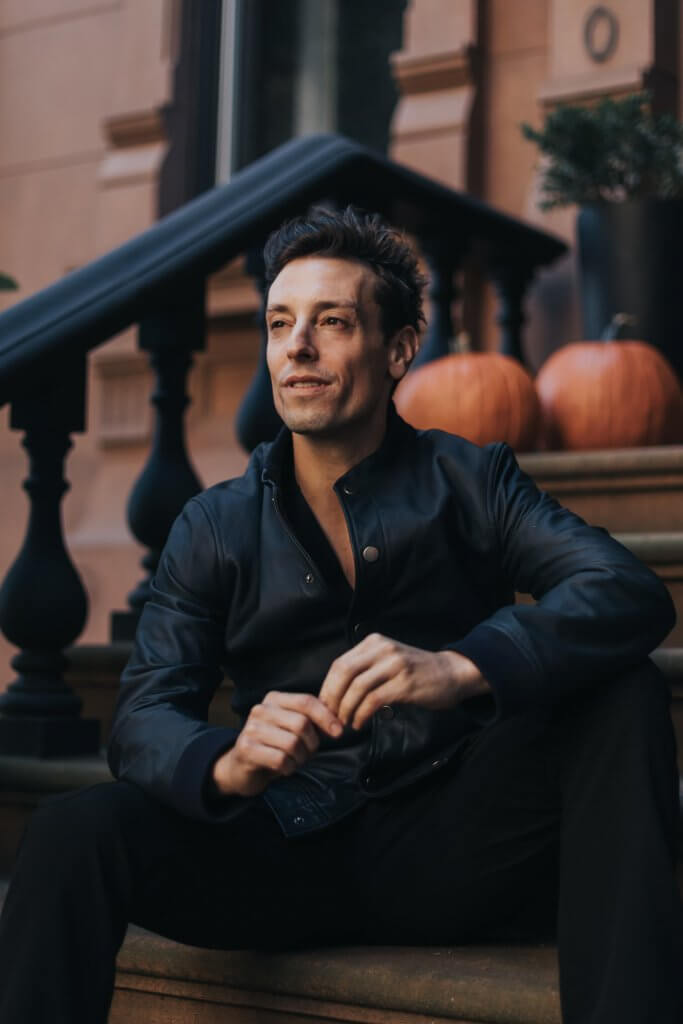 The reason I have decided to add the EMSculpt non-surgical muscle building device to my Manhattan body contouring practice is that it blends perfectly with what we are trying to accomplish. I truly have devoted my professional career to helping people feel great about themselves by realizing their best body goals which helps quality of life and self-esteem. Many long-term studies on the psychological benefits of plastic surgery prove these benefits of positive body image.
I have never thought of cosmetic surgery as something that replaces health and wellness but something that is complimentary. Nobody has perfect genetics and we were not allowed to choose our parents and thus we do the best with what we have.
Tackling troubling areas to feel great about your body is what my team and I  are dedicated to. And while we always advocate for exercising, (especially weight training) we can now offer our New York patients a safe and easy way to help them in their fitness journey.
Getting Results With Limited Time
As a busy New Yorker who is very dedicated to fitness, EMSculpt helps me break through personal plateaus.
The truth is, we all get stuck in ruts with our exercise routine but EMSculpt is a great way to stay motivated by results. My 30 minute sessions have enabled me to build that extra muscle that inspires me to continue reaching for higher fitness goals. It has really helped me pop through that annoying extra layer of fat.
Kickstarting a Fitness Journey
I've found that EMSculpt treatment has also been great for those just starting their fitness journey. Being able to kickstart a strong core gives many patients the confidence to tackle fitness challenges that they otherwise would not have tried. Recently, Neinstein Plastic Surgery had a patient who was scared of taking a high intensity fitness class. After four EMSculpt sessions they had enough core stability to confidently take the class and enjoy the vigorous exercise.
Advanced Technology
Before introducing EMSculpt to my practice, I took a lot of time to study the technology. After all, we have all seen abdominal machines on late night infomercials and I was wondering if this was just a fancy version.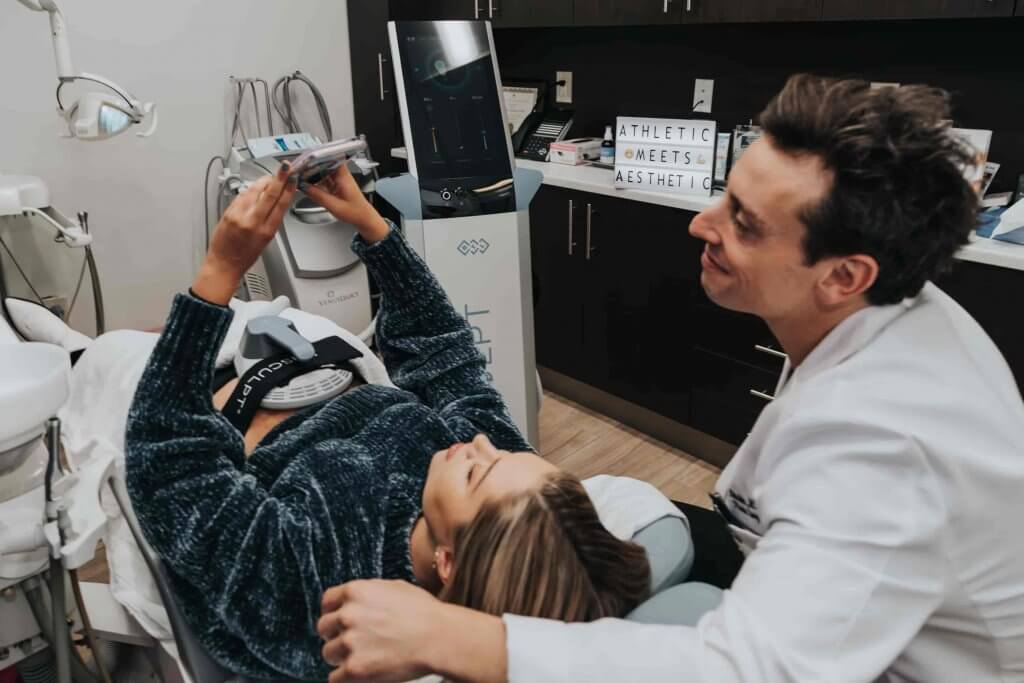 To my pleasant surprise, the science of EMSculpt is fascinating. EMSculpt energy is highly-focused Electro Magnetic Energy; the same energy in MRI machines. As mentioned above, the National Cancer Institute find this electromagnetic energy completely healthy and safe. In fact, it's the same type of energy used for medical and scientific breakthroughs.
Instead of the energy being used to create images of our bodies like in an MRI the EMSculpt focuses the energy towards our core muscles. Core muscles include the rectus abdominus, the external and internal oblique muscle and the serratus anterior. When focused on the buttock the energy is focused on the gluteus maximus, medius, and minimus.
Currently, EMSculpt is used to treat the core, which helps not just in the gym and at the beach but in all facets of your life. A strong core improves posture which reduces neck, back, and shoulder pain and will reduce total body aches and pains as well. These positive effects will help you live your best life both in and out of the gym.
We are also excited with the technology's buttock shaping applications. EMSculpt is not used to achieve large buttocks (such as with surgery like the Brazilian butt lift), but rather to truly sculpt beautiful strong buttocks.To me, this approach to buttock shaping is the simplest, safest, non-surgical tool in aesthetic medicine. The thirty minute EMSculpt session is the equivalent of doing 20,000 squats with body weight. That is probably the equivalent of 100 workouts.
It is important to remember that EMSculpt technology also reduces fat. As energy is moves into the muscle it passes through the skin and fat and fat is reduce by about 20% in the area.
What an EMSculpt Session is Like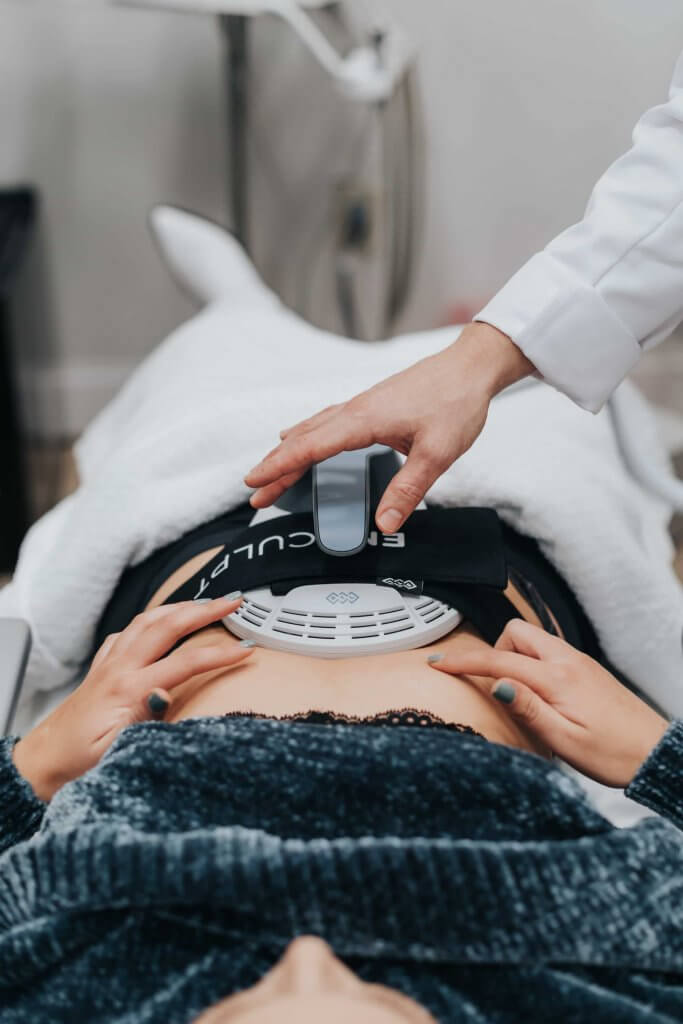 The energy is completely safe, meaning there is zero radiation. Remember, EMSculpt is not an x-ray or CT scan. The energy causes the muscles to contract much harder than we can on our own.
Imagine doing a sit up with 300 pound weights on your abdomen – you would not be able to do it. But what if your muscles are forced to do it? That is what EMSculpt does.
When the first contraction starts you feel a very intense jolt, almost like you are retching. There is no pain, just the feeling of doing the most intense sit up of your life. While initially you may be startled, you will quickly come to love the sensation.
As the thirty minute EMSculpt session continues, you will feel a rush of endorphins as the muscles rhythmically contract. At the end of a session you have a very natural high. You will feel like you just completed 100 high intensity workouts.
What is incredibly interesting is that you are not very sore and can even work out the same day. The reason for this is that you do not have the same total body dehydration and lactic acid production with EMSculpt as you do with traditional workouts.
Even with all of EMSculpt's benefits, it is still very important that EMSculpt does not replace traditional. We want everyone to have cardiovascular training and its health benefits. However, EMSculpt will even help your cardio training, as it improves your cardio exercises due to the ways in which it increases your functional ability.
Our entire team is very excited to our NYC patients realize their body goals. EMSculpt the latest tool we have at Neinstein Plastic Surgery to aid us i our commitment to helping patients live their best lives.
Emsculpt Video
Ready to Begin Building & Toning Muscle?
Contact Neinstein Plastic Surgery today to book your EMSculpt body contouring appointment. We are conveniently located on the Upper East Side of NYC, and our staff is eager to help you achieve your desired look.