New York Emsculpt Body Contouring
EmSculpt by BTL is the first FDA-approved device to build and sculpt muscle. Treatment is non-surgical and safely and effortlessly builds muscle in areas such as in the abdomen and buttocks in a fraction of the time it would take traditional exercise.
EmSculpt is considered the future of body contouring. Neinstein Plastic Surgery is proud to be among the first New York plastic surgery practices to implement the machine.
The machine uses highly-focused Electro Magnetic Energy. The energy is the same as in MRI machines but rather that creating images of the body (like an MRI), the device focuses the energy towards our core muscles.
Core muscles include the rectus abdominus, the external and internal oblique muscle and the serratus anterior. When focused on the buttock the energy is focused on the gluteus maximus, medius, and minimus.
Currently, EmSculpt is used to treat the core, which helps not just in the gym and at the beach but in all facets of your life. A strong core improves posture which reduces neck, back, and shoulder pain and will reduce total body aches and pains as well. These positive effects will help you live your best life both in and out of the gym.
The technology also has buttock shaping applications. It is not used to achieve large buttocks (such as with surgery like the Brazilian butt lift), but rather to truly sculpt beautiful strong buttocks. We find this approach to buttock shaping is the simplest, safest, non-surgical tool in aesthetic medicine. The thirty minute session is the equivalent of doing 20,000 squats with body weight. That is probably the equivalent of 100 workouts.
It is important to remember that EmSculpt technology also reduces fat. As energy is moves into the muscle it passes through the skin and fat and fat is reduce by about 20% in the areas.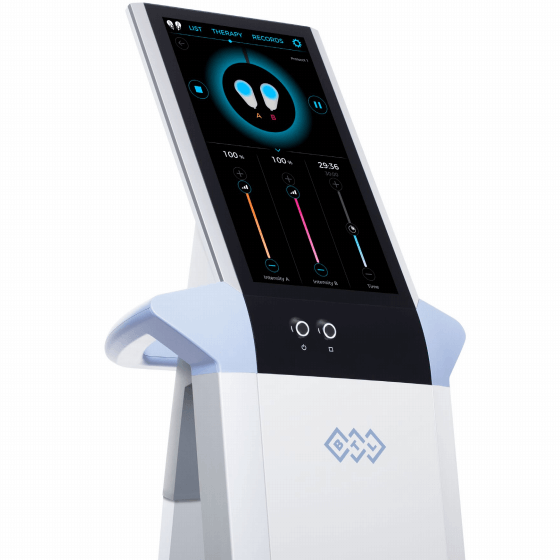 Benefits of EmSculpt
Getting Results With Limited Time
Many of our patients are busy New Yorkers who are dedicated to health and fitness. EmSculpt helps them break through their personal fitness plateaus.
The truth is, we all get stuck in ruts with our exercise routine but EmSculpt is a great way to stay motivated by results. A 30 minute session can help you build extra muscle and pop through stubborn fat, inspiring  you to continue reaching for higher fitness goals.
Kickstarting a Fitness Journey
EmSculpt treatment is also ideal for those just starting their fitness journey. Being able to kickstart a strong core gives many patients the confidence to tackle fitness challenges that they otherwise would not have tried. Recently, Neinstein Plastic Surgery had a patient who was scared of taking a high intensity fitness class. After four sessions they had enough core stability to confidently take the class and enjoy the vigorous exercise.
Emsculpt Treatment with Neinstein Plastic Surgery in NYC
EmSculpt is performed at our Upper East Side NYC office by strapping the device to the abdomen or buttocks for 30 minutes. From there, the technology uses high-intensity focused electromagnetic energy to flex your muscles 300 times their inherent capacity. Imagine doing a sit up with 300 pound weights on your abdomen – you would not be able to do it. But what if your muscles are forced to do it? That is what EmSculpt does. See videos of the device here.
When the first contraction starts you feel a very intense jolt, almost like you are retching. There is no pain, just the feeling of doing the most intense sit up of your life. While initially you may be startled, you will quickly come to love the sensation.
As the thirty minute session continues, you will feel a rush of endorphins as the muscles rhythmically contract. At the end of a session you have a very natural high. You will feel like you just completed 100 high intensity workouts.
What is incredibly interesting is that you are not very sore and can even work out the same day. The reason for this is that you do not have the same total body dehydration and lactic acid production with EmSculpt as you do with traditional workouts.
Even with all of its benefits, it is still very important that the device does not replace traditional exercise. We want everyone to have cardiovascular training and its health benefits. However, EmSculpt will even help your cardio training, as it improves your cardio exercises due to the ways in which it increases your functional ability.
For ideal results, we recommend four 30-minute sessions over the course of two weeks (spread 2-3 days apart).
Two patients can be treated at once (only on the abdomen), so we encourage patients to bring a workout buddy or loved one.  There is no better way to catch up with your bestie than over 20,000 sit ups.
Frequently Asked Questions About Emsculpt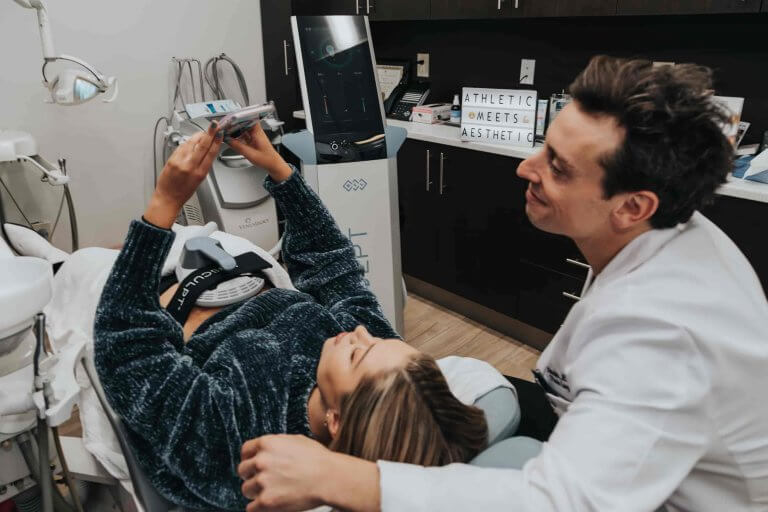 EmSculpt Cost in NYC
Neinstein Plastic Surgery offers special EmSculpt pricing and introductory packages at our NYC location. If you are ready to begin building and toning muscle contact Neinstein Plastic Surgery today to
book your EmSculpt
body contouring appointment. We are conveniently located on the Upper East Side of NYC, and our staff is eager to help you achieve your desired look.
"I had emsculpt on my lower tummy and after pairing it with exercise saw results fast!"